Ultrasonic Testing, UT
Coupling agent, coupling paste, coupling gel
HELLING coupling agent for ultrasonic testing
In non-destructive material testing (NDT), the ultrasonic testing (UT) method is often used to search for material defects such as cracks, pores, etc.. Ultrasonic testing is also used for wall thickness or coating thickness measurement.
When the ultrasonic probe is placed on the surface of the test object, an air gap is created between probe and object surface. The probe cannot be completely coupled to the surface. The ultrasonic frequencies used in non-destructive material testing cannot be transmitted effectively and loss-free through the air. Even a very small air gap would significantly impede the transmission of sound energy.
Special coupling agents (coupling gel, coupling paste) have therefore been developed for ultrasonic testing. By applying the viscous coupling agent to the surface of the test object, the probe can be completely coupled. The ultrasound can now be introduced into the test object without loss.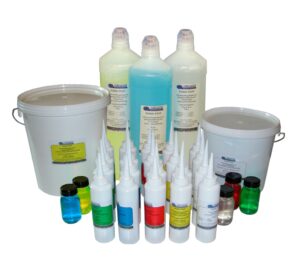 HELLING coupling agent for ultrasonic testing in various packaging sizes and different colours.
The ultrasonic coupling agents (gel) from HELLING are water washable. They can be easily removed from the surface. They contain a special corrosion protection and are therefore not corrosive. They also contain a bactericide. They are characterised by very good coupling. The content of sulfur and halogens is less than 50 ppm.
HELLING coupling agents for ultrasonic testing are available in various shades.
Available colours of the universal coupling paste:
Transparent
Red
Blue
Yellow
Green
Fluorescent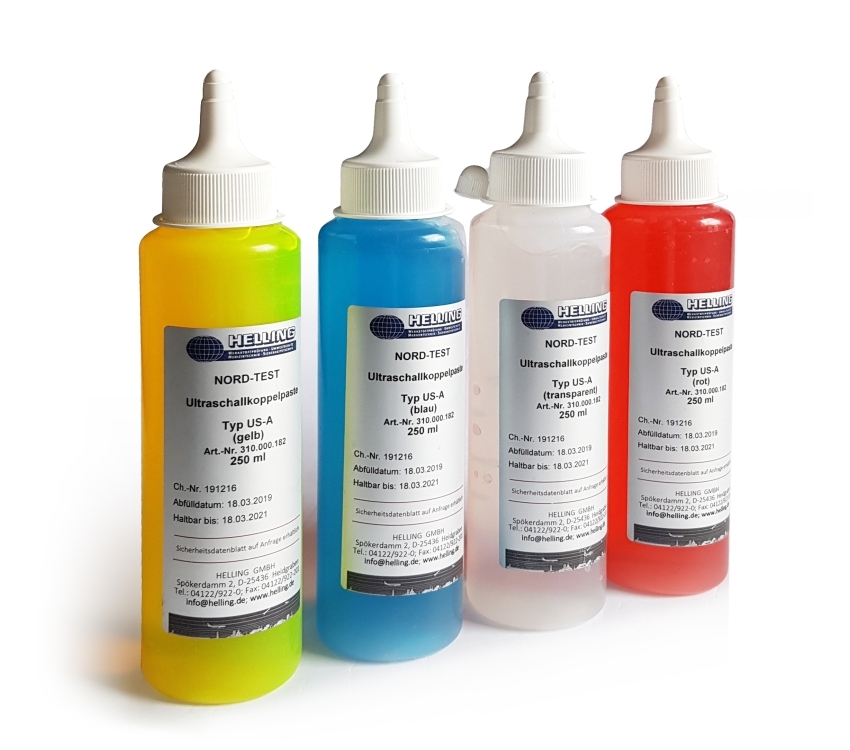 HELLING NORD-TEST ultrasonic coupling paste in different colours.
For different temperature ranges there are the corresponding coupling agents.
A special high-temperature coupling agent is available for hot testing (see table below).
HELLING coupling agent
Temperature
[°C]
Type
from
to
US-A
-5
+80
US-B
-30
+100
US-C
+18
+100
HT (hot test)
-40
+250
Coupling agents for ultrasonic testing
Send a request for UT coupling agent: