HELLING is a specialist in the design and manufacture of LED lamps equipped with UV-A LED, white light LED and also blue light LED. UV-A LED lamps are used in penetrant and magnetic particle testing with fluorescent test agent.
The increasing lifetime of the UV LED has contributed to today's widespread acceptance in surface inspection with fluorescent detection media (penetrant and magnetic particle testing). This also applies to the aviation industry sector.
LED manufacturers now guarantee a constant output intensity for a period of approximately 10,000 operating hours. UV LED area lights can be switched on and off as needed and without delay. They do not require any warm-up time and do not have to be in operation permanently. This further reduces the low energy consumption and increases the service life and service life expectancy accordingly.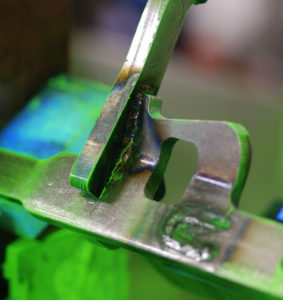 Inhomogeneity visible under UV irradiation during penetrant testing with fluorescent test medium.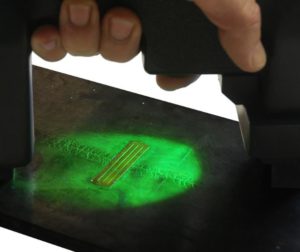 Magnetic particle testing with fluorescent test medium: under UV irradiation, the crack indications are clearly visible.
Advantages of the UV-A LED lamp compared to the conventional high-pressure mercury lamps used in the past are primarily:
Significantly longer operation life
Lower energy consumption
Immediate operational readiness after switching on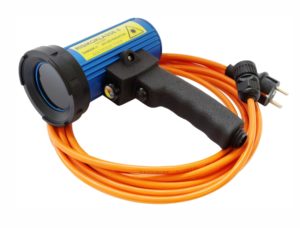 HELLING Handheld UV-Inspector 150 for use in penetrant and magnetic particle inspection
Meanwhile, HELLING offers various designs of UV-A LED lamps:
Stationary lamps in modular design
Hand lamps with battery or mains operation
Compact, handy pocket lamps
Lamps with controll functions
Lamps for specific industrial sectors (aviation, automotive, ...)
UV radiation
UV radiation (ultraviolet radiation) is electromagnetic radiation invisible to the human eye with a wavelength of 100 nm to 380 nm. This range is divided into UV-A (380 nm - 315 nm), UV-B (315 nm - 280 nm) and UV-C (280 nm - 100 nm) (DIN 5031).
UV radiation is used in various industrial applications due to its high radiation intensity, such as for hardening of films, plastics, varnishes and paints. In NDT, one predominantly uses the excitation of in the visible spectral range fluorescent substances (penetrant and magnetic particle testing).
Since UV radiation can damage the human eye and skin, the limits for permissible irradiation must be observed (see German UVV). Also, UV protective goggles should always be worn!
HELLING also limits the UV radiation of its lamps with appropriate filters. All UV-A lamps are subject to careful quality control.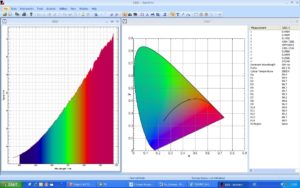 Spectral distribution of an A source
At the customer's request, a certificate of analysis of spectral irradiance can be issued. This is carried out in the in-house measurement laboratory.
UV Inspector 2020

Powerful UV LED pocket lamp
Aluminum housing
With charger for lithium-ion accumulator

Technical data

Operating voltage
4.2 V
UV source
1 x UV LED
LED lifetime
approx. 10,000 operating hours
Version 1:
UV intensity at a distance of 380 mm
approx. 3,800 µW/cm²
(ASTM E3022 or RRES 90061 certifiable)
Version 2:
UV intensity at a distance of 400 mm
approx. 3,400 µW/cm²
Wavelength
365 nm
Emission half-width
approx. 9.0 nm ±1 nm
Dimensions
∅ 33 mm x 125 mm
Total weight
approx. 174 g
Risk class according to DGZfP guideline EM 6
II
Diameter of the light spot at 1,000 µW/cm²
180 mm
Battery runtime
4 h

Scope of delivery

UV LED lamp incl. Lithium-ion battery
UV protective goggles
Charger for lithium-ion accumulator

OPTIONAL:

Certificate ASTM E3022/Rolls-Royce RRES 90061

UV Inspector 2020

Certificate according to ASTM E3022/Rolls-Royce RRES 90061

TORNIA UV-20

Small lightweight UV LED pocket lamp

Technical data

| | |
| --- | --- |
| Operating voltage | 3 V |
| UV source | 1 x UV LED |
| LED lifetime | approx. 10,000 operating hours |
| UV intensity at a distance of 400 mm | approx. 350 µW/cm² - 10,000 µW/cm² |
| Wavelength | 365 nm |
| Emission half-width | approx. 9.0 nm ±1 nm |
| Dimensions | ∅ 20 mm x 150 mm |
| Total weight | approx. 70 g |
| Risk class according to DGZfP guideline EM 6 | II / III |

Scope of delivery

UV LED lamp
2 x AAA batteries
UV protective goggles

UV Inspector 385

Shatterproof splashproof UV LED pocket lamp
Plastic housing with rubber lamination

Technical data

| | |
| --- | --- |
| Operating voltage | 4.8 V |
| UV source | 1 x UV LED |
| LED lifetime | approx. 10,000 operating hours |
| UV intensity (at 400 mm distance) | approx. 3,000 µW/cm² |
| Wavelength | 365 nm |
| Emission half-width | approx. 9.0 nm ±1 nm |
| Dimensions | 230 mm x 75 mm |
| Total weight | approx. 480 g |
| Risk class according to DGZfP guideline EM 6 | II |
| Diameter of the light spot at 1,000 µW/cm² | 130 mm |

Scope of delivery

UV LED lamp
4 x 1.2 V NiMh accumulator
UV protective goggles

OPTIONAL:

Universal charger for NiMh and lithium-ion batteries
Certificate according to ASTM E3022 / RRES 90061

UV Inspector 385

Universal recharger

Certificate according to ASTM E3022/Rolls-Royce RRES 90061

UV-Inspector Policheck NDT

Shatterproof splashproof UV LED pocket lamp
Plastic housing with rubber lamination

Technical data

| | |
| --- | --- |
| Operating voltage | 4.8 V |
| UV source | 1 x UV LED |
| LED lifetime | approx. 10,000 operating hours |
| UV intensity (at 400 mm distance) | approx. 11,000 µW/cm² |
| Wavelength | 365 nm |
| Emission half-width | approx. 9.0 nm ±1 nm |
| Dimensions | 230 mm x 75 mm |
| Total weight | approx. 480 g |
| Risk class according to DGZfP guideline EM 6 | III |
| Diameter of the light spot at 1,000 µW/cm² | 80 mm |

Scope of delivery

UV LED lamp
4 x 1.2 V NiMh accumulator
UV protective goggles

OPTIONAL:

Universal charger for NiMh and lithium-ion batteries
Certificate according to ASTM E3022 / RRES 90061

UV-Inspector Policheck NDT

Universal recharger

Certificate according to ASTM E3022/Rolls-Royce RRES 90061

Helling-150 NR

Dimmable flashlight
Aluminum housing

Technical data

Operating voltage
4.8 V
UV source
1 x UV LED
LED lifetime
approx. 10,000 operating hours
UV intensity (at 400 mm distance)
approx. 1,500 - 6,500 µW/cm²
(factory adjustable)
Wavelength
365 nm
Emission half-width
approx. 9.0 nm ±1 nm
Dimensions
230 mm x 50 mm
Total weight
approx. 500 g
Risk class according to DGZfP guideline EM 6
II
Diameter of the light spot at 1,000 µW/cm²
80 mm

Scope of delivery

UV LED lamp
4 x 1.2 V NiMh rechargeable batteries
Plastic case
UV protective goggles

OPTIONAL:

Universal charger for NiMh and lithium-ion batteries

Helling-150 NR

Universal recharger

UV-Inspector 520-LT

Powerful UV LED pocket lamp
Risk class III

Technical data

Operating voltage
4.2 V (lithium-ion battery)
UV source
1 x UV LED
LED lifetime
approx. 10,000 operating hours
UV intensity
at a distance of 400 mm approx. 20,000 µW/cm²
at a distance of 2,000 mm approx. 900 µW/cm²
Wavelength
365 nm
Emission half-width
approx. 9.0 nm ±1 nm
Dimensions
∅ 50 mm x 180 mm
Total weight
approx. 340 g
Risk class according to DGZfP guideline EM 6
III
Diameter of the light spot at 1,000 µW/cm²
90 mm

Scope of delivery

UV LED lamp
Lithium-ion battery 4.2 V
UV protective goggles

OPTIONAL

Universal charger for NiMh and lithium-ion batteries
Certificate according to ASTM E3022 / RRES 90061

UV-Inspector 520-LT

Universal recharger

Certificate according to ASTM E3022/Rolls-Royce RRES 90061
UV LED hand lamps (battery)
UV-Inspector UV-70

Handy UV LED lamp
White light LED switchable
Dust and splash proof
Resistant aluminum housing

Technical data

Operating voltage
16.8 V
UV source
2 x UV LED
1 x white light LED
Separately switchable
LED lifetime
approx. 10,000 operating hours
UV intensity at a distance of 400 mm
approx. 3,000 µW/cm²
Illuminated area (at min. 1,000 µW/cm²)
∅ approx. 18.5 mm
Wavelength
365 nm
Emission half-width
approx. 9.0 nm ±1 nm
Dimensions
∅ 80 mm, 155 mm x 220 mm
Total weight
approx. 980 g
Risk class according to DGZfP guideline EM 6
II
Protection class
IP65

Scope of delivery

UV LED lamp
Lithium-ion pack 3.4 A
Plastic case
UV protective goggles

OPTIONAL

Universal charger for NiMh and lithium-ion batteries
Certificate according to ASTM E3022 / RRES 90061

UV-Inspector UV-70

Universal recharger

Certificate according to ASTM E3022/Rolls-Royce RRES 90061

UV Inspector 2012 Standard

Handy battery operated UV LED lamp

Technical data

| | |
| --- | --- |
| Operating voltage | 18 V |
| UV source | 4 x UV LED |
| LED lifetime | approx. 10,000 operating hours |
| UV intensity (at a distance of 400 mm) | approx. 3,000 µW/cm² |
| Wavelength | 365 nm |
| Emission half-width | approx. 9.0 nm ±1 nm |
| Dimensions | 150 mm 80 mm x 270 mm |
| Total weight | approx. 1,200 g |
| Risk class according to DGZfP guideline EM 6 | II |
| Diameter of the light spot at 1,000 µW/cm² | ∅ approx. 200 mm |

Scope of delivery

UV hand lamp
Lithium-ion battery pack 2 A
Spare lithium ion battery 2 A
Charging device
Power adapter
Plastic case
UV protective goggles

OPTIONAL

Lithium-ion battery pack 3.5 A
With white light LED
Certificate according to ASTM E3022 / RRES 90061

Lithium-ion battery pack 3.5 A

UV Inspector 2012 Standard

With white light LED

Certificate according to ASTM E3022/Rolls-Royce RRES 90061

UV Inspector 2012 SH

Handy battery operated UV LED lamp
With white light LED

Technical data

| | |
| --- | --- |
| Operating voltage | 18 V |
| UV source | 4 x UV LED |
| White light source | 2 x white light LED (approx. 600 lx) |
| LED lifetime | approx. 10,000 operating hours |
| UV intensity (at a distance of 400 mm) | 3,000 µW/cm² - 22,000 µW/cm² (factory adjustable) |
| Wavelength | 365 nm |
| Emission half-width | approx. 9.0 nm ±1 nm |
| Dimensions | 150 mm x 80 mm x 270 mm |
| Total weight | approx. 1,2 kg |
| Risk class according to DGZfP guideline EM 6 | II / III |

Scope of delivery

UV hand lamp
Lithium-ion battery pack 2 A
Spare lithium ion battery 2 A
Charging device
Power adapter
Plastic case
UV protective goggles

OPTIONAL

Lithium-ion battery pack 3.5 A
Certificate according to ASTM E3022 / RRES 90061

Lithium-ion battery pack 3.5 A

UV Inspector 2012 SH

Certificate according to ASTM E3022/Rolls-Royce RRES 90061

UV Inspector 2014

Cheap battery operated UV LED hand lamp
Passive cooling

Technical data

| | |
| --- | --- |
| Operating voltage | 18 V |
| UV source | 4 x UV LED |
| LED lifetime | approx. 10,000 operating hours |
| UV intensity (at a distance of 400 mm) | 3,000 µW/cm² |
| Wavelength | 365 nm |
| Emission half-width | approx. 9.0 nm ±1 nm |
| Dimensions | 150 mm x 80 mm x 270 mm |
| Total weight | approx. 1,000 g |
| Risk class according to DGZfP guideline EM 6 | II |
| Protection class | IP20 |
| Diameter of the light spot at 1,000 µW/cm² | ∅ approx. 200 mm |

Scope of delivery

UV hand lamp
Lithium-ion battery pack
Charging device
Plastic case
UV protective goggles

OPTIONAL

Lithium-ion battery pack 3.5 A
Certificate according to ASTM E3022 / RRES 90061

Lithium-ion battery pack 3.5 A

UV Inspector 2014

Certificate according to ASTM E3022/Rolls-Royce RRES 90061

UV Inspector 2014 (DB) SH

Powerful battery operated UV LED hand lamp

Technical data

Operating voltage
18 V
UV source
4 x UV LED
LED lifetime
approx. 10,000 operating hours
UV intensity (at a distance of 400 mm)
3,000 µW/cm² - 7,000 µW/cm²
Factory adjustable
Wavelength
365 nm
Emission half-width
approx. 9.0 nm ±1 nm
Dimensions
150 mm x 80 mm x 270 mm
Total weight
approx. 1,000 g
Risk class according to DGZfP guideline EM 6
II
Protection class
IP20

Scope of delivery

UV hand lamp
Lithium ion battery 2 A
Charging device
Plastic case
UV protective goggles

OPTIONAL

Lithium-ion battery pack 3.5 A
Certificate according to ASTM E3022 / RRES 90061

Lithium-ion battery pack 3.5 A

UV Inspector 2014 (DB) SH

Certificate according to ASTM E3022/Rolls-Royce RRES 90061

UV-Inspector 711 IP65

Small battery operated UV LED hand lamp
UG2A filter glass
With additional white light LED
Battery pack integrated in the lamp body
Connection socket for charger in lamp handle
Certifiable according to ASTM E3022 and Rolls-Royce RRES 90061

Technical data

Operating voltage
16.8 V
UV source
3 x UV LED
1 x white light LED approx. 500 lx
Separately switchable
LED lifetime
approx. 10,000 operating hours
UV intensity (at a distance of 400 mm)
approx. 3,600 µW/cm²
Wavelength
365 nm
Emission half-width
approx. 9.0 nm ±1 nm
Dimensions
155 mm x 220 mm x 80 mm
Total weight
approx. 980 g
Risk class according to DGZfP guideline EM 6
II

Scope of delivery

UV LED lamp
Lithium-ion battery pack 4 x 4.2 V
Charging device
Plastic case
UV protective goggles

OPTIONAL

Clear glass filter
Battery status display
LED defect detection
Certificate according to ASTM E3022 and Rolls-Royce RRES 90061

UV-Inspector 711 IP65

with clear glass filter

with battery status indicator

LED defect detection

Certificate according to ASTM E3022/Rolls-Royce RRES 90061

UV-Inspector 711 SH IP65

Small battery operated UV LED hand lamp
UG2A filter glass
With additional white light LED
UV irradiance factory adjustable according to customer requirements
Battery pack integrated in the lamp body
Connection socket for charger in lamp handle
Certifiable according to ASTM E3022 and Rolls-Royce RRES 90061

Technical data

Operating voltage
16.8 V
UV source
3 x UV LED
White light LED
approx. 500 lx
LED lifetime
approx. 10,000 operating hours
UV intensity (at a distance of 400 mm)
approx. 3,000 µW/cm² - 16,000 µW/cm²
Factory adjustable
Wavelength
365 nm
Emission half-width
approx. 9.0 nm ±1 nm
Dimensions
155 mm x 220 mm x 80 mm
Total weight
approx. 980 g
Risk class according to DGZfP guideline EM 6
II / III

Scope of delivery

UV LED lamp
Lithium-ion battery pack 4 x 4.2 V
Charging device
Plastic case
UV protective goggles

OPTIONAL

Clear glass filter
Battery status display
LED defect detection
Certificate according to ASTM E3022 and Rolls-Royce RRES 90061

UV-Inspector 711 SH IP65

with clear glass filter

with battery status indicator

LED defect detection

Certificate according to ASTM E3022/Rolls-Royce RRES 90061

UV-Inspector 711 Steri IP65

UV LED hand lamp in special design for clean rooms:

Battery operation
Battery pack integrated in the handle of the lamp
UG2A filter
Quick orientation in dark surroundings due to switchable white light LED
Smoothed aluminum housing

Technical data

| | |
| --- | --- |
| Operating voltage | 16.8 V |
| UV source | 3 x UV LED |
| Orientation light (white light) switchable | 1 x white light LED (approx. 500 lx) |
| LED lifetime | approx. 10,000 operating hours |
| UV intensity (at a distance of 400 mm) | approx. 3,600 µW/cm² |
| Wavelength | 365 nm |
| Emission half-width | approx. 9.0 nm ±1 nm |
| Dimensions | 160 mm x 200 mm x 80 mm |
| Total weight | approx. 900 g |
| Risk class according to DGZfP guideline EM 6 | II |
| Protection class | IP65 |

Scope of delivery

UV LED lamp
Lithium-ion battery pack 4 x 4.2 V
Charging device
Plastic case
UV protective goggles

OPTIONAL

Battery status indicator
LED defect detection

UV-Inspector 711 Steri IP65

with battery status indicator

LED defect detection

UV-Inspector 711 Steri SH IP65

UV LED hand lamp in special design for clean rooms:

Battery operation
Battery pack integrated in the handle of the lamp
UG2A filter
Quick orientation in dark surroundings due to switchable white light LED
Smoothed aluminum housing

Technical data

Operating voltage
16.8 V
UV source
3 x UV LED
Orientation light (white light) switchable
1 x white light LED (approx. 500 lx)
LED lifetime
approx. 10,000 operating hours
UV intensity (at a distance of 400 mm)
approx. 3,000 µW/cm² - 16,000 µW/cm²
Factory adjustable
Wavelength
365 nm
Emission half-width
approx. 9.0 nm ±1 nm
Dimensions
160 mm x 200 mm x 80 mm
Total weight
approx. 900 g
Risk class according to DGZfP guideline EM 6
II / III
Protection class
IP65

Scope of delivery

UV LED lamp
Lithium-ion battery pack 4 x 4.2 V
Charging device
Plastic case
UV protective goggles

OPTIONAL

Battery status indicator
LED defect detection

UV-Inspector 711 Steri SH IP65

with battery status indicator

LED defect detection

UV-Inspector 3018 A

Compact powerful LED hand lamp with clear glass filter, UV and white light LED and battery operation.
UV irradiance factory adjustable according to customer requirements
Dimmable white light
Battery pack integrated in the lamp body
Certifiable according to ASTM E3022

Technical data

Operating voltage
16.8 V
Light source
6 x UV LED
5 x white light LED dimmable
LED lifetime
approx. 10,000 operating hours
UV intensity (at a distance of 400 mm)
approx. 3,600 - 20,000 µW/cm²
Factory adjustable
Wavelength
365 nm
Emission half-width
approx. 9.0 nm ±1 nm
Illuminance (at 1 m distance)
1.700 lx
Dimensions
∅ 100 mm; 240 mm x 240 mm (H x L)
Total weight
approx. 1,500 g
Risk class according to DGZfP guideline EM 6
II / III
Protection class
IP54

Scope of delivery

UV and white light LED hand lamp
Lithium-ion battery pack 4 x 4.2 V
Charger for lithium-ion batteries
Plastic case
UV protective goggles

OPTIONAL

UG2A filter for ASTM certification

UV-Inspector 3018 A

with UG2A filter

Certificate according to ASTM E3022

UV Inspector 715

Handy battery operated UV LED hand lamp
UG2A filter
With white light LED
Battery pack integrated in the lamp body
Battery status display
Certifiable according to ASTM E3022 and Rolls-Royce RRES 90061

Technical data

Operating voltage
16.8 V
UV source
5 x UV LED
1 x white light LED
LED lifetime
approx. 10,000 operating hours
UV intensity (at a distance of 400 mm)
approx. 5,400 µW/cm² (UG2A filter)
approx. 6,100 µW/cm² (clear glass filter)
Illuminance (at 1 m distance)
1.700 lx
Wavelength
365 nm
Emission half-width
approx. 9.0 nm ±1 nm
Dimensions
165 mm x 210 mm x 100 mm
Total weight
approx. 1,100 g
Risk class according to DGZfP guideline EM 6
II
Protection class
IP65
Running time luminaire
4.5 operating hours

Scope of delivery

UV LED lamp
Lithium-ion battery pack 4 x 4.2 V
Charging device
Plastic case
UV protective goggles

OPTIONAL

with clear glass filter
Certificate according to ASTM E3022 and Rolls-Royce RRES 90061

UV Inspector 715

with clear glass filter

Certificate according to ASTM E3022/Rolls-Royce RRES 90061
UV LED hand lamps (mains)
UV LED Schwanenhals lamp

Mains operation
Dimmable
Very flexible "swan neck"
Ideal for irradiation of complex geometries
Easy to handle due to the separate ballast unit and the long supply cable
Low weight

Technical data

| | |
| --- | --- |
| Input voltage | 230 V 50/60 Hz |
| Operating current | 550 mA |
| LED lifetime | > 10,000 operating hours |
| UV intensity at a distance of 200 mm | approx. 3,000 µW/cm² |
| UV intensity at a distance of 400 mm | approx. 1,300 µW/cm² |
| Wavelength | 365 nm |
| Emission half-width | approx. 1.5 nm |
| Dimensions ballast | 200 mm x 100 mm x 65 mm |
| Weight ballast | approx. 1,100 g |
| Weight UV lamp | approx. 1,150 g |
| Supply cable ballast | approx. 1.5 m |
| Supply cable lamp | approx. 2.0 m |
| Risk class according to DGZfP guideline EM 6 | II |
| Protection class | IP20 |

Scope of delivery

Schwanenhals lamp with ballast
UV protective goggles

UV-Inspector 100 IP65

Mains powered UV LED hand lamp
UG2A filter

Technical data

| | |
| --- | --- |
| Input voltage | 100 V - 240 V AC 50/60 Hz |
| Operating voltage | 36 V |
| UV source | 17 x UV-LED |
| LED lifetime | approx. 10,000 operating hours |
| UV intensity (at a distance of 400 mm) | approx. 4,500 µW/cm² |
| Wavelength | 365 nm |
| Emission half-width | approx. 9.0 nm ±1 nm |
| Dimensions | 150 mm 160 mm x 60 mm |
| Weight | approx. 1,300 g |
| Risk class according to DGZfP guideline EM 6 | II |
| Protection class | IP65 |
| Diameter of the light spot at >1,000 µW/cm² | ∅ approx. 360 mm |

Scope of delivery

UV hand lamp
Power supply unit
Plastic case
UV protective goggles

UV-Inspector 100 IP65

with clear glass filter

UV-Inspector 150 IP65

Small handy UV LED hand lamp

Battery or mains operation
UG2A filter
With white light source
Pre-equipped for tripod
Certifiable according to ASTM E3022 and Rolls-Royce RRES 90061

Technical data

| | |
| --- | --- |
| UV source | 3 x UV LED |
| White light source | 1 x white light LED |
| LED lifetime | approx. 10,000 operating hours |
| UV intensity at a distance of 400 mm | approx. 3,600 µW/cm² |
| Wavelength | 365 nm |
| Emission half-width | approx. 9.0 nm ±1 nm |
| Irradiation area at >1,000 µW/cm² | ∅ approx. 220 mm |
| Illuminance (at 1 m distance) | approx. 500 lx |
| Dimension | 155 mm x 220 mm x 80 mm |
| Total weight | approx. 900 g |
| Risk class according to DGZfP guideline EM 6 | II |
| Protection class | IP65 |

Versions

| | |
| --- | --- |
| MAINS OPERATION | |
| Operating voltage | 230 V 50/60 Hz |

| | |
| --- | --- |
| MAINS and BATTERY OPERATION | |
| Operating voltage Mains operation | 230 V 50/60 Hz |
| and battery operation | |
| a) External battery pack 3.4 A | |
| Operating current | max. 3,4 A |
| Battery runtime | approx. 5 h |
| Power | approx. 57 Wh |
| b) External battery pack 6.8 A | |
| Operating current | max. 6,8 A |
| Battery runtime | approx. 10 h |
| Power | approx. 114 Wh |
| c) External battery pack 10.2 A | |
| Operating current | max. 10,2 A |
| Battery runtime | approx. 15 h |
| Power | approx. 171 Wh |

Scope of delivery

UV LED lamp with white light LED
Power cord (5 m, unscrewable)
Plastic case
UV protective goggles

OPTIONAL

Clear glass filter
Battery status display
Additional external battery pack
Certificate according to ASTM E3022 and Rolls-Royce RRES 90061

Mains operation

Mains and battery (3.4 A) operation

Mains and battery (6.8 A) operation

Mains and battery (10.2 A) operation

with clear glass filter

with battery status indicator

Certificate according to ASTM E3022/Rolls-Royce RRES 90061

UV-Inspector 150 SH IP65

Small handy UV LED hand lamp

Battery or mains operation
UG2A filter
With white light source
Pre-equipped for tripod
Certifiable according to ASTM E3022 and Rolls-Royce RRES 90061

Technical data

UV source
3 x UV LED
White light source
1 x white light LED
LED lifetime
approx. 10,000 operating hours
UV intensity at a distance of 400 mm
approx. 3,000 µW/cm² - 13,000 µW/cm²
Factory adjustable
Wavelength
365 nm
Emission half-width
approx. 9.0 nm ±1 nm
Irradiation area at >1,000 µW/cm²
∅ approx. 220 mm
Illuminance (at 1 m distance)
approx. 500 lx
Dimension
155 mm x 220 mm x 80 mm
Total weight
approx. 900 g
Risk class according to DGZfP guideline EM 6
II / III
Protection class
IP65

Versions

| | |
| --- | --- |
| MAINS OPERATION | |
| Operating voltage | 230 V 50/60 Hz |

| | |
| --- | --- |
| 2) MAINS and BATTERY OPERATION | |
| Operating voltage Mains operation | 230 V 50/60 Hz |
| and battery operation | |
| a) External battery pack 3.4 A | |
| Operating current | max. 3,4 A |
| Battery runtime | approx. 5 h |
| Power | approx. 57 Wh |
| b) External battery pack 6.8 A | |
| Operating current | max. 6,8 A |
| Battery runtime | approx. 10 h |
| Power | approx. 114 Wh |
| c) External battery pack 10.2 A | |
| Operating current | max. 10,2 A |
| Battery runtime | approx. 15 h |
| Power | approx. 171 Wh |

Scope of delivery

UV LED lamp with white light LED
Power cord (5 m, unscrewable)
Plastic case
UV protective goggles

OPTIONAL

Clear glass filter
Battery status display
Additional external battery pack
Certificate according to ASTM E3022 and Rolls-Royce RRES 90061

Mains operation

Mains and battery (3.4 A) operation

Mains and battery (6.8 A) operation

Mains and battery (10.2 A) operation

with clear glass filter

with battery status indicator

Certificate according to ASTM E3022/Rolls-Royce RRES 90061

UV-Inspector 3018 N+A

Compact powerful mains operated UV LED hand lamp, alternatively battery operated by external rechargeable battery.
Clear glass filter
With additional white light source.
UV irradiance factory adjustable according to customer requirements
Battery pack integrated in the lamp body
Certifiable according to ASTM E3022 and Rolls-Royce RRES 90061

Technical data

| | |
| --- | --- |
| UV source | 6 x UV LED |
| White light source | 5 x white light LED dimmable |
| LED lifetime | approx. 10,000 operating hours |
| UV intensity at a distance of 400 mm | approx. 3,600 µW/cm² - 20,000 µW/cm² (factory adjustable) |
| Wavelength | 365 nm |
| Emission half-width | approx. 9.0 nm ±1 nm |
| Irradiation area at >1,000 µW/cm² | ∅ approx. 220 mm |
| Illuminance (at a distance of 1,000 mm) | approx. 1,700 lx |
| Dimension | ∅ 100 mm; 240 mm x 180 mm (H x L) |
| Total weight | approx. 1,100 g |
| Risk class according to DGZfP guideline EM 6 | II / III |
| Protection class | IP54 |

Versions

| | |
| --- | --- |
| MAINS OPERATION (N) | |
| Operating voltage | 230 V 50/60 Hz |

| | |
| --- | --- |
| MAINS and BATTERY OPERATION (N+A) | |
| Operating voltage Mains operation (N) | 230 V 50/60 Hz |
| and battery operation (A) | 16.8 V (4 x 4.2 V) lithium-ion batteries |
| Version a) | |
| Operating current | max. 3,4 A |
| Battery runtime | approx. 5 h |
| Power | approx. 57 Wh |
| Version b) | |
| Operating current | max. 6,8 A |
| Battery runtime | approx. 10 h |
| Power | approx. 114 Wh |
| Version c) | |
| Operating current | max. 10,2 A |
| Battery runtime | approx. 15 h |
| Power | approx. 171 Wh |

Scope of delivery

Mains operation version (N)

UV LED lamp
Power cord (5 m, unscrewable)
Plastic case
UV protective goggles

Mains and battery operation version (N + A)

UV LED lamp
Power cord (5 m, unscrewable)
External lithium-ion battery pack
Charging device
Plastic case
UV protective goggles

OPTIONAL

UG2A filter
Battery status indicator

with UG2A filter

Mains operation

Mains and battery (3.4 A) operation

Mains and battery (6.8 A) operation

Mains and battery (10.2 A) operation

with battery status indicator

Certificate according to ASTM E3022/Rolls-Royce RRES 90061
TORNIA 250/2

UV stationary lamp with

UG2A filter
Passive cooling
High efficiency
Low energy consumption
Defined emission wavelength

Technical data

| | |
| --- | --- |
| Operating voltage | 230 V / 50 Hz |
| UV source | 18 x UV LED |
| LED lifetime | approx. 10,000 operating hours |
| UV intensity (at a distance of 400 mm) | approx. 4,500 µW/cm2 |
| Illuminated area (at min. 1,000 µW/cm2 | 300 mm x 450 mm |
| Wavelength | 365 nm |
| Emission half-width | approx. 9.0 nm ±1 nm |
| Risk class according to DGZfP guideline EM 6 | II |
| Dimensions | 290 mm x 365 mm x 200 mm |
| Total weight | approx. 6 kg |
| Protection class | IP65 |

Scope of delivery

UV LED stationary lamp
UV protective goggles

TORNIA 403

UV stationary lamp with

UG2A filter
Passive cooling
High efficiency
Low energy consumption
Defined emission wavelength

Technical data

| | |
| --- | --- |
| Operating voltage | 230 V / 50 Hz |
| UV source | 27 x UV LED |
| LED lifetime | approx. 10,000 operating hours |
| UV intensity (at a distance of 400 mm) | approx. 4,000 µW/cm2 |
| Illuminated area (at min. 1,000 µW/cm2 | 540 mm x 450 mm |
| Wavelength | 365 nm |
| Emission half-width | approx. 9.0 nm ±1 nm |
| Risk class according to DGZfP guideline EM 6 | II |
| Dimensions | 410 mm x 160 mm x 110 mm |
| Total weight | approx. 4.2 kg |
| Protection class | IP65 |

Scope of delivery

UV LED stationary lamp
UV protective goggles

TORNIA 505

UV stationary lamp with

UG2A filter
Passive cooling
High efficiency
Low energy consumption
Defined emission wavelength

Technical data

| | |
| --- | --- |
| Operating voltage | 230 V / 50 Hz |
| UV source | 45 x UV LED |
| LED lifetime | approx. 10,000 operating hours |
| UV intensity (at a distance of 400 mm) | approx. 4,700 µW/cm2 |
| Illuminated area (at min. 1,000 µW/cm2 | 730 mm x 460 mm |
| Wavelength | 365 nm |
| Emission half-width | approx. 9.0 nm ±1 nm |
| Risk class according to DGZfP guideline EM 6 | II |
| Dimensions | 570 mm x 160 mm x 110 mm |
| Total weight | approx. 5.6 kg |
| Protection class | IP65 |

Scope of delivery

UV LED stationary lamp
UV protective goggles

ZERO 100/1 IP65

Small stationary UV LED lamp
Clear glass filter
Optional UG2A filter or on request MUGLED filter

Technical data

Input voltage
230 V 50/60 Hz
Operating voltage
36 V
Operating current
approx. 0.4 A
UV source
1 x 9 UV-LED
LED lifetime
approx. 10,000 operating hours
UV intensity at a distance of 400 mm
approx. 4,500 µW/cm²
Factory adjustable
Wavelength
365 nm
Emission half-width
approx. 9.0 nm ±1 nm
Irradiation area at >1,000 µW/cm²
300 mm x 300 mm
Dimension
165 mm x 205 mm x 80 mm
Total weight
approx. 950 g
Risk class according to DGZfP guideline EM 6
II
Protection class
IP65

Scope of delivery

UV LED lamp with 3.5 m supply cable
UV protective goggles

OPTIONAL

UG2A filter
MUGLED filter on request
With swivel arm

with UG2A filter

Request MUGLED filter

ZERO 100/1 IP65

With swivel arm small

ZERO 200/2 IP65

Compact stationary UV LED lamp
Clear glass filter
Optional UG2A filter or on request MUGLED filter

Technical data

Input voltage
230 V 50/60 Hz
Operating voltage
36 V
Operating current
approx. 1.1 A
UV source
2 x 9 UV LED
LED lifetime
approx. 10,000 operating hours
UV intensity at a distance of 400 mm
approx. 5,800 µW/cm²
Factory adjustable
Wavelength
365 nm
Emission half-width
approx. 9.0 nm ±1 nm
Irradiation area at >1,000 µW/cm²
300 mm x 450 mm
Dimension
346 mm x 280 mm x 70 mm
Total weight
approx. 3,5 kg
Risk class according to DGZfP guideline EM 6
II
Protection class
IP65

Scope of delivery

UV LED lamp with 3.5 m supply cable
UV protective goggles

ZERO 200/2 IP65

with UG2A filter

Request MUGLED filter

ZERO 400/3 IP54

Compact stationary UV LED lamp with protection class IP54
Clear glass filter
UV intensity stepless adjustable or preset by the manufacturer according to customer specification
UV intensity up to 13,000 µW/cm² is possible on customer's request.

Technical data

Input voltage
230 V 50/60 Hz
Operating voltage
36 V
Start-up/restart time
none / none
UV source
3 x 9 UV LED
LED lifetime
approx. 10,000 operating hours
UV intensity at a distance of 400 mm
approx. 3,000 µW/cm² - 8,000 µW/cm²
Factory adjustable
Wavelength
365 nm
Emission half-width
approx. 9.0 nm ±1 nm
Irradiation area at >1,000 µW/cm²
480 mm x 320 mm
Dimension
435 mm x 150 mm x 100 mm
Total weight
approx. 4.9 kg
Risk class according to DGZfP guideline EM 6
II
Protection class
IP54

Scope of delivery

UV LED lamp with 5 m supply cable
Power supply unit with 3.5 m cable
UV protective goggles

OPTIONAL

UG2A filter
On request MUGLED filter
UV intensity up to 13,000 µW/cm²
Stepless adjustable UV intensity
Dimmable white light bar
Version with clear glass and protection class IP65

ZERO 400/3 IP54

with UG2A filter

Request MUGLED filter

UV intensity up to 13,000 µW/cm²

Intensity stepless adjustable

White light bar dimmable

Protection class IP65

ZERO 500/5 IP54

Compact stationary UV LED lamp with protection class IP54
Clear glass filter
UV intensity stepless adjustable or preset by the manufacturer according to customer specification

Technical data

Input voltage
230 V 50/60 Hz
Operating voltage
36 V
UV source
5 x 9 UV LED
LED lifetime
approx. 10,000 operating hours
UV intensity (at 380 mm distance)
approx. 3,000 µW/cm² - 9,000 µW/cm²
Factory adjustable
Irradiated area at >1,000 µW/cm²
650 mm x 340 mm
Wavelength
365 nm
Emission half-width
approx. 9.0 nm ±1 nm
Dimensions
535 mm x 150 mm x 105 mm
Total weight
approx. 5.9 kg
Risk class according to DGZfP guideline EM 6
II
Protection class
IP54

Scope of delivery

UV LED lamp ZERO 500/5 IP54
5 m supply cable
Power supply unit with 3.5 m cable
UV protective goggles

OPTIONAL

UG2A filter
On request MUGLED filter
Stepless adjustable UV intensity
Dimmable white light bar
Version with clear glass and protection class IP65

ZERO 500/5 IP54

with UG2A filter

Request MUGLED filter

Intensity stepless adjustable

White light bar dimmable

Protection class IP65

ZERO 500 NR

Compact UV LED stationary lamp with protection class IP20

UG2A filter
Ribbed aluminium housing for passive cooling
High efficiency
Low energy consumption
Low heat generation
No warm-up time

Technical data

| | |
| --- | --- |
| Input voltage | 230 V 50/60 Hz |
| Operating voltage | 21 V |
| UV source | 20 x UV LED |
| LED lifetime | approx. 10,000 operating hours |
| UV intensity at a distance of 400 mm | approx. 4,200 µW/cm² |
| Wavelength | 365 nm |
| Emission half-width | approx. 9.0 nm ±1 nm |
| Dimension | 490 mm x 50 mm x 80 mm |
| Total weight | approx. 2 kg |
| Risk class according to DGZfP guideline EM 6 | II |
| Protection class | IP20 |

Scope of delivery

UV LED lamp with 5 m supply cable
Power supply unit with 3.5 m cable
UV protective goggles

OPTIONAL

with foot switch
with additional white light or red light bar

ZERO 500 NR

Foot switch for ZERO 500 NR

with additional light bar (white light LED)

with additional light bar (red light LED)

ZERO 500 LK

Compact UV LED stationary lamp with protection class IP20

Clear glass filter
Ribbed aluminium housing for passive cooling
High efficiency
Low energy consumption
Low heat generation
No warm-up time

Technical data

| | |
| --- | --- |
| Input voltage | 230 V 50/60 Hz |
| Operating voltage | 21 V |
| UV source | 20 x UV LED |
| LED lifetime | approx. 10,000 operating hours |
| UV intensity at a distance of 400 mm | approx. 9,500 µW/cm² |
| Wavelength | 365 nm |
| Emission half-width | approx. 9.0 nm ±1 nm |
| Dimension | 490 mm x 50 mm x 80 mm |
| Total weight | approx. 2 kg |
| Risk class according to DGZfP guideline EM 6 | II |
| Protection class | IP20 |

Scope of delivery

UV LED lamp with 5 m supply cable
Power supply unit with 3.5 m cable
UV protective goggles

ZERO 500/5 IP54

Compact stationary UV LED lamp with protection class IP54 and UG2A filter.

UV intensity pre-adjusted by manufacturer according to the customer's specification or stepless adjustable.

UV intensity up to 14,000 µW/cm² is possible on customer's request.

Ribbed aluminium housing for passive cooling
High efficiency
Low energy consumption
Low heat generation
No warm-up time

Technical data

| | |
| --- | --- |
| Input voltage | 230 V 50/60 Hz |
| Operating voltage | 36 V |
| Start-up/restart time | none / none |
| UV source | 5 x 9 UV LED |
| LED lifetime | approx. 10,000 operating hours |
| UV intensity (at a distance of 400 mm) | approx. 3,000 µW/cm² - 9,000 µW/cm² |
| Wavelength | 365 nm ±3 nm |
| Emission half-width | approx. 9.0 nm ±1 nm |
| Irradiation area at >1,000 µW/cm² | 650 mm x 340 mm |
| Dimension | 535 mm x 150 mm x 105 mm |
| Total weight | approx. 5.9 kg |
| Risk class according to DGZfP guideline EM 6 | II |
| Protection class | IP54 |

OPTIONAL

Swivel arm
Clear glass filter
MUGLED filter
Stepless adjustable UV intensity
UV intensity up to 14,000 µW/cm² possible
Dimmable white light bar
Protection class IP65

with UG2A filter

Request MUGLED filter

optional with clear glass filter

with control LED over/under voltage

ZERO 700/6 IP54

Compact stationary UV LED lamp with protection class IP54
Clear glass filter
Ribbed aluminium housing for passive cooling
High efficiency
Low energy consumption
Low heat generation
No warm-up time

UV intensity pre-adjusted by manufacturer according to the customer's specification or stepless adjustable.

UV intensity up to 14,000 µW/cm² is possible on customer's request.

Technical data

Input voltage
230 V 50/60 Hz
Operating voltage
36 V
UV source
6 x 9 UV LED
LED lifetime
approx. 10,000 operating hours
UV intensity at a distance of 400 mm
approx. 3,000 µW/cm² - 9,000 µW/cm²
Factory adjustable
Wavelength
365 nm
Emission half-width
approx. 9.0 nm ±1 nm
Irradiation area at >1,000 µW/cm²
840 mm x 340 mm
Dimension
705 mm x 150 mm x 105 mm
Total weight
approx. 7.4 kg
Risk class according to DGZfP guideline EM 6
II
Protection class
IP54

OPTIONAL

UG2A filter
On request MUGLED filter
Stepless adjustable UV intensity
Dimmable white light bar
Protection class IP65

ZERO 700/6 IP54

with UG2A filter

Request MUGLED filter

UV intensity up to 14,000 µW/cm²

Intensity stepless adjustable

White light bar dimmable

Protection class IP65

More information

UV LED stationary lamps have also become indispensable for non-destructive materials testing in the aviation industry sector. They can be found at the test stations where fluorescent testing products are used in penetrant and magnetic particle testing.

Fig. 1: Spectral irradiance of a UV LED lamp type ZERO 500/5 AITM

Two versions of the stationary lamps series ZERO - standard or AITM

As standard, the ZERO type stationary lamps are offered in two different versions:

The "AITM" design can be certified according to AITM6-1001. The certifications are carried out in HELLING's measurement laboratory. You can find more information here.

A major difference in the design of a certifiable UV LED lamp is the choice of filter.

Tab. 1: Overview ofthe design of "ZERO" series stationary lamps, "Standard" and "AITM" versions

Filter

As standard, the stationary lamps of the ZERO series are equipped with clear glass filter. Optionally, they can be equipped with UG2A filter. For certification to AITM6-1001, they must be equipped with UG2A filter. MUGLED filter can be requested.

Further options

The following functions are no longer required by the regulations, but are still possible at the customer's request:

Defect detection by means of a control LED and shutdown of the UV LED stationary lamp, over/under voltage control (e.g. in case of failure of an LED)
Temperature control : Shutdown of the UV LED stationary lamp when the ambient temperature drops below 10 °C or rises above 50 °C.

ZERO 400/3 IP54 AITM

Compact stationary UV LED lamp for aviation.

Certifiable according to AITM6-1001

UG2A filter
UV intensity steppless adjustable
ON/OFF switch

The requirements of Airbus AITM 6-1001 are met. A corresponding certificate can be issued.

Technical data

Input voltage
230 V 50/60 Hz
Operating voltage
36 V
UV source
3 x 9 UV LED
LED lifetime
approx. 10,000 operating hours
UV intensity (at 380 mm distance)
approx. 3,000 µW/cm² - 8,000 µW/cm²
Factory adjustable
Irradiated area at >1,000 µW/cm²
480 mm x 320 mm
Wavelength
365 nm
Emission half-width
approx. 9.0 nm ±1 nm
Dimensions
435 mm x 150 mm x 100 mm
Total weight
approx. 4.9 kg
Risk class according to DGZfP guideline EM 6
II
Protection class
IP54

Scope of delivery

UV LED lamp ZERO 400/3 IP54 AITM
5 m supply cable
Power supply unit with 3.5 m cable
UV protective goggles

OPTIONAL

White light bar
Protection class IP65
Certificate according to AITM6-1001

ZERO 400/3 IP54 AITM

Protection class IP65

with additional light bar (white light LED)

Certificate according to AITM6-1001

ZERO 500/5 IP54 AITM

Compact stationary UV LED lamp for aviation.

Certifiable according to AITM6-1001

UG2A filter
UV intensity steppless adjustable
ON/OFF switch

The requirements of Airbus AITM 6-1001 are met. A corresponding certificate can be issued.

Technical data

Input voltage
230 V 50/60 Hz
Operating voltage
36 V
UV source
5 x 9 UV LED
LED lifetime
approx. 10,000 operating hours
UV intensity (at 380 mm distance)
approx. 3,000 µW/cm² - 9,000 µW/cm²
Factory adjustable
Irradiated area at >1,000 µW/cm²
650 mm x 340 mm
Wavelength
365 nm
Emission half-width
approx. 9.0 nm ±1 nm
Dimensions
535 mm x 150 mm x 105 mm
Total weight
approx. 5.9 kg
Risk class according to DGZfP guideline EM 6
II
Protection class
IP54

Scope of delivery

UV LED lamp ZERO 500/5 IP54 AITM
5 m supply cable
Power supply unit with 3.5 m cable
UV protective goggles

OPTIONAL

White light bar
Protection class IP65
Certificate according to AITM6-1001

ZERO 500/5 IP54 AITM

Protection class IP65

with additional light bar (white light LED)

Certificate according to AITM6-1001

ZERO 700/6 IP54 AITM

Compact stationary UV LED lamp for aviation.

Certifiable according to AITM6-1001

UG2A filter
UV intensity steppless adjustable
ON/OFF switch

The requirements of Airbus AITM 6-1001 are met. A corresponding certificate can be issued.

Technical data

Input voltage
230 V 50/60 Hz
Operating voltage
36 V
UV source
6 x 9 UV LED
LED lifetime
approx. 10,000 operating hours
UV intensity (at 380 mm distance)
3.000 µW/cm² - 9.000 µW/cm²
Factory adjustable
Irradiated area at >1,000 µW/cm²
840 mm x 340 mm
Wavelength
365 nm
Emission half-width
approx. 9.0 nm ±1 nm
Dimensions
705 mm x 150 mm x 105 mm
Total weight
approx. 7.4 kg
Risk class according to DGZfP guideline EM 6
II
Protection class
IP54

Scope of delivery

UV LED lamp ZERO 700/6 IP54 AITM
5 m supply cable
Power supply unit with 3.5 m cable
UV protective goggles

OPTIONAL

White light bar
Protection class IP65
Certificate according to AITM6-1001

ZERO 700/6 IP54 AITM

Protection class IP65

with additional light bar (white light LED)

Certificate according to AITM6-1001

TORNIA BL-20

Small blue light LED pocket lamp with battery operation
Stepless focusing
Dust and splash proof
Resistant aluminium case with clip

Technical data

Operating voltage
3.0 V (2 x AAA batteries)
UV source
1 x blue light LED
LED lifetime
approx. 10,000 operating hours
Radiation intensity (at a distance of 400 mm)
approx. 350 µW/cm² - 10,000 µW/cm²
Stepless focusable
Wavelength
455 nm
Emission half-width
19.5 nm
Dimensions
∅ 20 mm x 150 mm
Total weight
approx. 70 g
Protection class
IP54

Scope of delivery

Blue light LED lamp
2 x AAA batteries
Protective goggles

Blue-Star

Lamp with blue light LED

Technical data

| | |
| --- | --- |
| Operating voltage | 16.8 V (4 x 4.2 V lithium-ion batteries) |
| Light source | 3 x blue light LED |
| LED lifetime | approx. 10,000 h |
| Intensity (at 400 mm distance) | approx. 4,400 µW/cm² |
| Wavelength | 455 nm |
| Emission half-width | 19.5 nm |
| Dimensions | 160 mm x 200 mm x 80 mm |
| Total weight | approx. 900 g |

Scope of delivery

Hand lamp with lithium-ion battery pack (integrated in the handgrip of the lamp)
Charging device
Plastic case
Protective goggles Blue Light Type II

WordPress Cookie Plugin by Real Cookie Banner